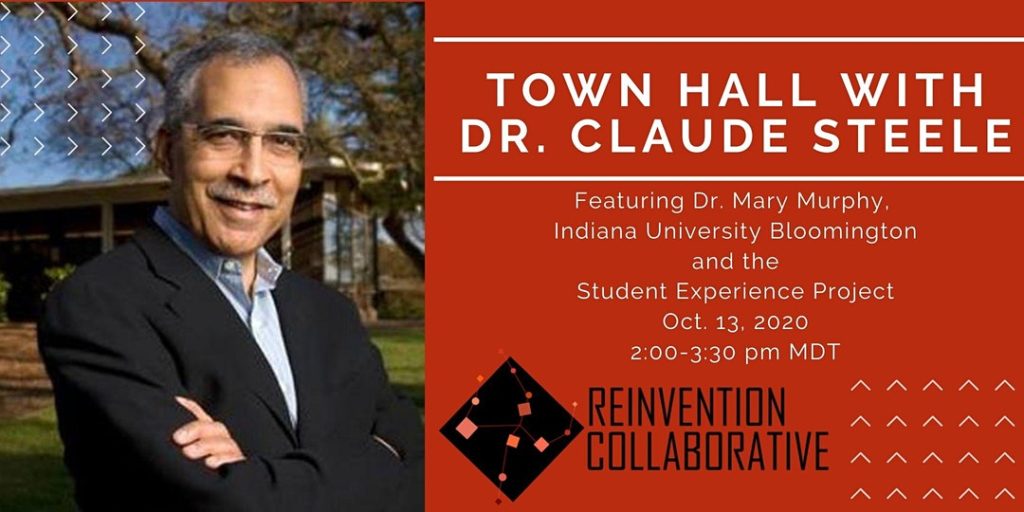 How can institutions take an anti-racist approach to diversity and inclusion initiatives? How can institutions include faculty in efforts to transform student experience? These are just some of the questions that Dr. Claude Steele and Dr. Mary Murphy addressed during a Reinvention Collaborative town hall on October 13. Steele and Murphy's conversation introduced the town hall audience to many of the social-psychological concepts and studies that inform the work of the Student Experience Project. These studies speak to practices that fundamentally redesign the learning environment to engender trust between faculty and students  and support equitable experiences for all students.
Following Steele and Murphy's conversation, Dr. Denise Bartell (University of Toledo), Dr. Tiffany Mfume (Morgan State University), and Dr. John Smail (University of North Carolina at Charlotte) highlighted the success of incorporating these principles into institutional change efforts through their involvement with the SEP. Each campus has engaged faculty to revise their syllabi to include social belonging and growth mindset messages, reinforcing Steele and Murphy's emphasis on the critical importance of empowering faculty as part of institutional change and anti-racism efforts.
Dr. Bartell emphasized how the Student Experience Project has allowed faculty at the University of Toledo to support one another in establishing identity safety in the classroom. A community of "equity champions" participating in SEP activities have been meeting weekly to discuss how classroom practices can mitigate some of the structural and systemic bias that leads to inequitable outcomes. Additionally, the University of Toledo has used the SEP's principles of psychologically-attuned messaging to develop a rubric that departments can use to evaluate their websites and get recommendations on how to include more attuned messaging to better support student experience.
At Morgan State University, part of the Peer Learning Network, over 30 faculty members have taken part in workshops on growth mindset and utilized SEP materials to revise their syllabi. Dr. Mfume emphasized that faculty can make small messaging and policy changes, especially in the syllabus and on the first day of class, that have a big impact on students and how they feel in a particular course. One method for communicating care for students that resonated with faculty at Morgan State was putting a note in the syllabus about email communication, indicating that faculty sometimes fall behind on emails when balancing heavy course loads, and encouraging students to follow up with faculty if they don't receive a response.
UNC Charlotte's approach to student success includes supporting a large population of transfer students, many of whom are low-income and from underrepresented background. Dr. Smail highlighted that working directly with faculty to improve the classroom experience is one lever for change that is within the institution's control and relatively insulated from outside factors. With over 60 faculty currently involved with the Student Experience Project, UNC Charlotte is considering how to scale these efforts to more faculty and more classrooms. Additionally, UNC Charlotte's SEP team has been developing student-attuned messaging for early alerts.
Thank you to the Reinvention Collaborative for sponsoring this event and highlighting the work of the Student Experience Project. Click here to view the recording of this town hall.