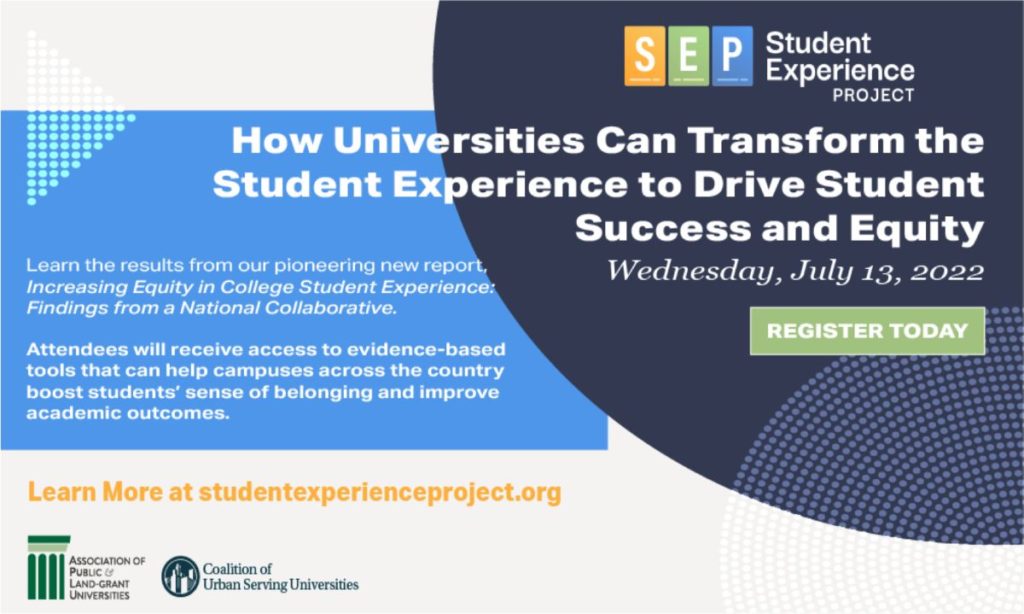 Join the Student Experience Project on July 13 from 12-1pm ET for a webinar unveiling the results of a pathbreaking new project examining the impact of scaling evidence-based practices that boost students' sense of belonging and improve academic outcomes.
The webinar will feature a panel discussion with practitioners who have led change on their campuses. Additionally, panelists will reveal the impact of classroom- and institution-driven changes to boost student belonging and academic achievement drawing on a data set of 10,000 students' experiences. Participants will receive access to a free set of resources that help campus leaders and faculty foster student belonging and growth mindset culture on their campuses. Panelists and presenters are:
– Dr. Mary Murphy, Equity Accelerator Founder, Herman B. Wells Endowed Professor at Indiana University, Co-Founder of the College Transition Collaborative, and SEP Primary Investigator
– Dr. Constancio Nakuma, Provost, University of Colorado Denver
– Dr. Denise Bartell, Associate Vice Provost for Student Success, University of Toledo,
– Dr. John Smail, Associate Provost for Undergraduate Education & Dean of University College, University of North Carolina Charlotte
– Dr. Sushilla Knottenbelt, Senior Lecturer III, Department of Chemistry and Chemical Biology, and Director, BA/MD Program, University of New Mexico
The Student Experience Project is a partnership of the Association of Public and Land-grant Universities (APLU), Coalition of Urban Serving Universities (USU); College Transition Collaborative (CTC, now part of Equity Accelerator); Education Counsel; Project for Education Research that Scales (PERTS); and Shift.